This timeline is the result of hours of research and represents a living look at the past of Fur Rendezvous. If you have additional information that can contribute to this look back at more than 80 years of Rondy history, please don't hesitate to contact us.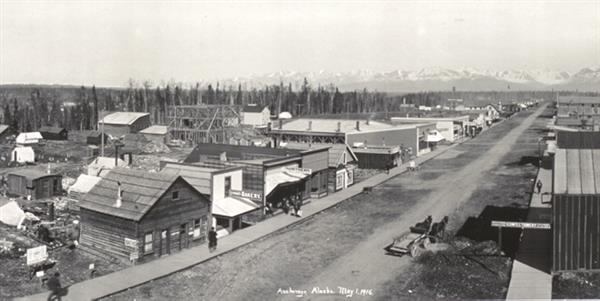 Anchorage; May 1916
The Early Days
1930s
Anchorage is just a small town of about 3,000 people, nestled between the Park Strip and Ship Creek.
1934
Fairbanks starts the "Ice Carnival and Dog Derby."
1935
After attending Fairbanks Sports Tournament, Vern Johnson and his hockey friends decide to establish a 3-day Festival to coincide with the time miners and trappers came to town with their winter's yield. A Community dance is held this year and is considered as the start of Rondy.
1936
First Anchorage Winter Sports Tournament held with Boxing, Hockey, Basketball, 4th Ave kid's sled dog race, Snake Dance (a community dance) and torchlight Parade ending at Park Strip Bonfire were held.
1937
First Queen crowned by Women's Club: Eileen Bagoy
1938
December 6th: Fur Rendezvous incorporates and becomes the official name of festival. Festival grows. 

Chamber of Commerce invites all to come in costume adding a Mardi Gras flavor with a carnival night and street parade celebrating Washington's Birthday. 

Trappers and fur farmers urged to bring furs during Rendezvous week to auction off to local and stateside buyers beginning the tradition of having fur auctions.
1940
John Hedberg aka "Moose Meat John" wins prize for longest beard at annual beard contest.
1941
Wally Hickel boxes his way to semifinals in Rondy boxing tournament.
The War Years; No Fur Rendezvous
| | |
| --- | --- |
| 1942-1945 | With the U.S. entry into World War II and the invasion of the Aleutians by Japanese forces, Alaskans are focused on the war efforts. Fur Rondy is not held during these years. |
The Return
1946
The Alaska Championship Sled Dog Races debuts with 3 mushers competing from the Park Strip – winner Earl Norris.
1947
2,695 tickets were sold to crown Louise Leitner as the Fur Rendezvous Queen.
1949
First year with name change – World Championship Sled Dog Races are held on 4th avenue with snow brought in by City Streets Department.
1950
The Eskimo Blanket Toss, an ancient Native Alaskan tradition, joins the Festival with AK Natives flown from Nome and Diomede Islands to demonstrate the blanket toss.

Bowling is added as a Fur Rondy Sport until the early 70's.
1951
First Miners and Trappers Dance—a community costume event—debuts produced by the Lions Club. Early community dances were held, by most accounts, conducted by the Chamber or Anchorage Women's Club.

Folk dancing that included square dancing became part of Rondy held first at the Elks hall then moved to the AK Railroad Rec Hall / Govt Hill in 1952. Square and Round Dance Club formed and continued the Rondy dance in various locations until 2000. Dances at Govt Hill Club continued but not a listed Rondy event.
1953
Six women vie for the first Women's Alaska Championship Sled-dog racing.
1954
Fur Rendezvous funds raised for a new civic center are used to build the Sidney Laurence Auditorium.
1955
Greater Anchorage Inc., is incorporated to promote civic cultural and recreational events through Fur Rendezvous.
1957
First curling exhibition held in front of 4th Ave City Hall. 1958 first Rondy curling tournament or "Spiel" was played outdoors on 4th then moved to the Curling Club in 1960 becoming a cornerstone event.

First King and Queen Regents by Pioneers of Alaska selected.
1959

 January 3: Alaska is admitted as the 49th State of the United States.

1960
G.A.I. awarded Charitable Gaming Permit (#10) after passage of Charitable Gaming State Legislation in 1960.
1961
First rides by Golden Wheel Amusements pictured at old City Hall. Rondy Carnival added in 1965.

Car racing became part of Rondy with ice racing on Sand lake. Moved in town 1966 till 1972.
Great Alaskan Earthquake
| | |
| --- | --- |
| March 27, 1964 | A magnitude 9.2 earthquake strikes Prince William Sound, causing soil liquefaction, landslides, tsunamis and more. 139 people are killed. |
The Festival Continues
| | |
| --- | --- |
| 1965/1966 | (Until 1980s) Rondy operates the Rondy Palace at the current location of Glacier BrewHouse (corner of 5th & H St) serving as Rondy Headquarters and Anchorage's Bingo Hall generating revenue for festival staffing. |
| 1966 | (Until 2008) First Alaska Basketball Classic held with teams invited statewide. 1967 was named AK Centennial Basketball Classic and then renamed – All Alaska Basketball Classic. Parks and Recreation provides support to event 1973-1995. Basketball tournament was one of the first sports of Rondy. Tournaments were held in earlier years. 1951 Guide listed "A&B" League Basketball Tournaments. |
| 1966 | (Until 2013) The World Championship Dog Weight Pull begins as a bet between two dog owners to see whose animal could pull the most weight. Weather conditions and location issues cancelled and ended event in 2013. Photo (1961 Guide) shows dogs pulling at Old City Hall. |
| 1967 | Anchorage – Talkeetna and back snow machine races referred as the "Iron Dog" races were conducted along the Glen and Parks Highway racing in the right of way and ditches at high speeds. The event became more difficult with more driveways and streets with the population and housing growth of the 80's. |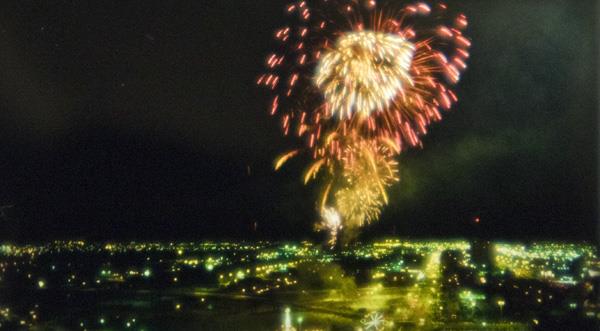 Boomtown
Oil is discovered on the North Slope in 1968, leading to the construction of the Trans-Alaska Pipeline by 1977 and explosive growth for all of Alaska.
1970
Rondy Melodrama, a fun Gold Rush / trapper era show with villains, damsels in distress, a hero with booing and popcorn throwing encouraged, plays first year at the Elks Lodge.
1971
(Until 2012) First game of Snowshoe Baseball played at 6th and C street. 1972 Changed to slow pitch softball and played at 9th and C street between "Koots" and Darwin's Theory.
1971
"Rondy on Ice" a figure skating show debuted in 1971 at the Anchorage Sports Arena, moving to Ben Boeke Ice Arena and finally to the UAA Wells Fargo Ice Arena ended with the 2016 Rondy.
1974
(Until 1995) Rondy Monte Carlo night, Vegas style for fun for non-cash prizes was played. Was a festival favorite but the 1996 AK State Legislature banned all forms of gambling except for Bingo and Rippies.
1975
First official Rondy Fireworks show was held.
1977
(Until 2007) Car racing is reborn as the Rondy Grand Prix conducted on downtown streets. Track preparation costs and lack of sponsors resulted in the end of an era of downtown racing.
1978
Hot Air Balloon Aerial display is launched from Westchester lagoon, becoming in 1979 an aerial race from East High/RJS/Cartee Softball fields to the then-vacant lands of Dimond/Old Seward from 1979 until 1987 ending due to exorbitant cost of flight insurance and loss of large safe landing areas.
1979
First Outhouse race conducted on the Park Strip. The event is sponsored by the UAA Engineering Club.

Large (over a football field in size) ice castle and ice play area donated and created by Japan Airlines.
1981
The first Snow Sculpture debuted as an exhibit but is threatened by low snow amounts.
1982
Inaugural Frostbite Footrace is held on downtown streets by the Anchorage Running Club.
1982
Tom and Jerry Snow Sculpture was a community effort that spurred continued interest for a competition.

The University Center Snow and Ice Sculpture Competition debuted and was conducted in 1982 and 1983.
1984
Inaugural year of the "Frozen Illusions" Snow and Ice Sculpture Competition sponsored by GCI, Japan Airlines, General Contractors and Architects of Anchorage held at the AK Railroad Storage Yard.
1985
First year of the Snowshoe Softball Tournament was held at RJS and Park Strip fields by Anchorage Sports Association.
1986
Inaugural Masque Ball was held at the Capt. Cook Hotel Quarter Deck in 1986. The annual event was quite the draw of eloquent European and New Orleans style face masks. Interest waned in the mid 2000's with cancellation after 2006 Rondy.
1992
Alaskan Native Community Division of the All Alaska Basketball Classic was added and continues as the Fur Rondy All Alaska Native Basketball Classic sponsored by the Alaska Native Sports Association.
Modern Rondy
1997
Grand Old Rondy, the festival opening night party at the Egan with live band, line dancing and Karaoke Contest was born to replace the Monte Carlo event. Second country band played the second weekend.
1998
Jim Beam Jam "Bark and Roll" replaced the 1997 Grand Old Rondy and opened on 2 floors at the Egan Center.
2006
 Rondy Alaska Texas Hold-em Poker Tournament joined the official events of Rondy.

At the June GAI Board meeting, the Board began a discovery of the looming financial disaster which lead to a yearlong self-evaluation, retooling of the festival, restructure and downsizing of staffing and adding more board responsibility for operations.
2007
Fur Rondy restructure/review of festival and business model was completed that led to the rebirth of Rondy. All but 12 events were dropped. A Dittman Survey commissioned by the Mayor / MOA identified strengths, weakness, what the community wanted being the Rondy festival to continue and that Fur Rendezvous was of value as the community winter festival. This survey gave direction to the Board and to the future focus of Rondy.

First "Rondy Brew," a specialty crafted beer by the Anchorage Brewing Company, was offered.
2008
While Rondy outdoor hockey tournaments were common in the early festival years up until mid-60's, it was not until 2008 when the outdoor adult hockey tournament that had debuted in 1996 became part of Fur Rendezvous. Tournament games were played at the two Mulcahy and 10th and E Parkstrip outdoor hockey rinks hosted by the Men's Outdoor Hockey league.
2009
Running of the Reindeer inaugural year was born after a loose reindeer was chased around on 4th Ave as part of Norwegian skijoring event in 2007. The event was structured to share a portion of net with two non-profits. Beginning in 2014, 50% of the net was shared with Toys for Tots.

The Rondy K9 Pit Crew program associated with the World Open Championship Sled Dog Races was launched to help fund a portion of the cost for the purse and event but ended with 2009 Rondy.
2011
(Through 2015) YUKIGASSEN a structured snowball battle / sport played on Parkstrip. Sport began in Sobetsu, Japan. "Yuki" – meaning Snow – "Gassen" – meaning Battle. Ended due to snow too dry for snowballs.
2014
Great Alaska Talent Competition was added as a Rondy event with the finals at the Alaska Center for the Performing Arts with ticket sales shared by the Miss Alaska Foundation.
2015
Inaugural Rondy Alaska Cornhole Championship was held at the Anchorage Senior Center.
2016
The Big Fat Tire Ride was added to diversify and appeal to a new Rondy generation. The event net shared with the ride organizers, Anchorage Bikes and 30% with GAI.

Rondy Dash by IHeart Media- a costume scavenger hunt in Downtown Rondy was debuted. The event supported GAI and a selected nonprofit ($1,000) by event organizers.

Fireworks Extravaganza Bridge Party, a VIP high class party, debuted with limited tickets and silent auction.
2017
Running with the Critters was introduced as a family youth event on 4th Ave. Ronald McDonald House was selected to share a portion (10%) of the net of success.
2018
"Rondy on Ice" was reborn after one-year dark (2017)

Rondy Rotary Beer Fest debuted with 30% net proceeds shared with GAI by East Anchorage Rotary.

The Rondy K9 Crew program associated with the World Open Championship Sled Dog Races was resurrected from the 2008 & 2009 K9 Pit Crew program. In 2018, 8 teams of 4 dog handlers / helpers were sponsored to share the mushers experiences on 4th Ave.
2019
Rondy Costume Crawl was launched as a Rondy tailgate party at downtown bars and brew pubs on Valentine weekend to bring awareness of the fun at the Miners and Trappers Party and costume judging event.
2020
Four (4) new and Three (3) retooled events made their debut at Rondy 2020, adding appeal to the new Rondy generation.

Blizzard Bash Town Square Friday Night Concert (new) – Performance featuring "I Like Robots"

Iditasport 5K Poker Run (three winter sports – Biking, Cross Country Skiing and Running) (new) – Conducted on Chester Creek and Ship Creek Trails for all ages

Anchorage School District and GAI partnered to host the ASD Battle of School Spirit (new) fun in-service day secondary school competition on the Delaney Parkstrip

Inaugural Rondy Royal Tea (new) event partered with the Royalty Coronation held at Hotel Captain Cook adding formal "tea" event complementing the Coronation and setting.

Jim Beam Jam changed format, becoming a concert event with 2 Nashville artists performing at Williwaw

Cornhole Championships added a single division to complement the doubles event competition

Ice Bowling at the Peanut Farm joined as an official Rondy event adding weekend fun to Rondy.