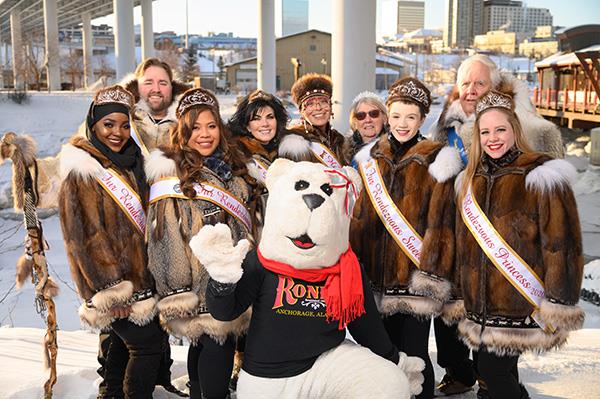 2020 Royal Court Left to Right: Princess Manal Sharife, Lord Trapper Casey Bieber, Queen Tala Ianu, Lady Trapper Rita Corwin, Rondy Bear!, Heritage Ambassador Audriana Foss, Queen Regent Judy Everard, Sweetheart Rivers Ducharme, King Regent John Aho, Princess Jilene Galle. Photo by Orzel Photography.
The Royal Court
There are ten members to the Rondy Royal Court: Queen, two Princesses, Heritage Ambassador, Sweetheart, Lord & Lady Trapper, King & Queen Regent and our beloved mascot Rondy Bear! You will find the Royal Court all over our city during the festival and all over the state in the coming year. Follow us on social media to see where we will be next! Stop and say hi, take a photo with us and share your favorite part of Fur Rondy! Make sure you hashtag #RondyRoyalty so we can follow your adventures too!
Queen and Princesses
The first Fur Rendezvous Queen was selected by the most raffle ticket sales in 1936. Over the years, the program has evolved to be an elite selection of young women age 18-29 who compete for the title with interview, resume, community service & public speaking. The Queen serves as an ambassador of Fur Rondy during the festival and community events throughout the year.
Heritage Ambassador
The Heritage Ambassador was added in 2016. She is an outstanding Alaska Native young woman selected from the Queen candidates and serves to help preserve the tradition and Alaska Native spirit. The HEritage Ambassador will serve along with the Royal Court throughout the year.
Rondy Sweetheart
The youth are the future of our community and we are excited about the newest royal member to our Rondy family; Rondy Sweetheart. The Sweetheart title will be for young women age 16-20 who want to represent their peers in our community both in voice and in service. The Sweetheart title is chosen similarly to the queen and will serve alongside her throughout the festival and the year.
Lord and Lady Trapper
Lord & Lady Trapper are outstanding citizens in our community who have contributed to the success of our city through business, community involvement and service to Fur Rendezvous. This distinctive honor dates back to the first Lord Trapper in 1981 and first Lady Trapper in 1997 and are chosen each year by former Lords and Ladies.
King and Queen Regent
Selected from the membership of the Pioneers of Alaska, the King and Queen Regent represent Alaska's tradition of Adventure
2020 Royalty
Queen, Princesses, and Sweetheart
Lord and Lady Trapper
Nominations are now open for the 2020 Lord and Lady Trapper. We are asking for nominations of outstanding men and women that have contributed to the Fur Rondy Festival, our community, or Alaska. Multiple nominations are welcome and are accepted until December 1st at 11:00pm. Nominations are submitted online and will be forwarded on to our Selection Committee for final review. Top 3 finalists for each will be announced on December 22nd and the winners will be awarded on January 19 at the Rondy Royalty Coronation.

Nominations for 2020 Lord and Lady Trapper: Click Here
2020 Royalty Competition Schedule of Events
Application Packet Due
Monday, December 30, 2019 by 5:00pm
Rondy Office, 400 D Street or
Caffe d'Arte Corporate Office, 6436 Homer Drive
or via email to royalty@furrondy.net
Candidate Informational Meeting
Thursday, January 2, 2020 – 6:30-8:00pm
TBD
Candidate and Judges Interviews
Friday, January 17, 2020 – 6:30-9:00pm
TBD
Community Service, Rehearsals, Fun Night
Saturday, January 18, 2020 – 9:00am-9:00pm
TBD
Royal Tea & Coronation
Sunday, January 19, 2020 – 10:00am-6:00pm
(Program begins at 2:00pm)
Hotel Captain Cook
939 West 5th Ave
2020 Rondy Royal Tea & Coronation
Tickets are available now for this regal event!
Support for the Rondy Royal Court Provided by: