Alaska Cornhole Championships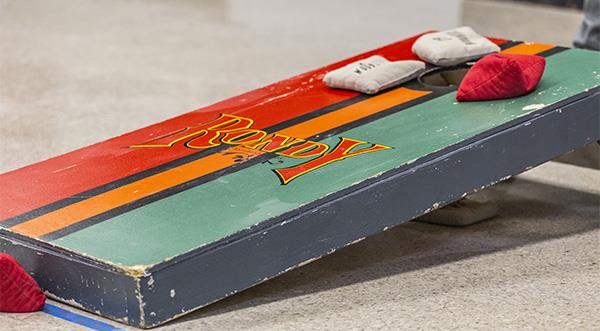 For the love of the "toss"
Cornhole has been known by many names – Corn Toss, Bean Bag Toss, Soft Horseshoes – but the sport is the same. Teams take turns tossing their bags at the opposing board; first team to 21 points wins. If it lands on the board, it scores 1 point, but scores 3 points if it falls through the hole. Bags on the board can even be knocked into the hole by other tosses to increase their points.
Want to keep up-to-date on all the Cornhole happenings in Anchorage? Check out the AK Cornhole facebook page!
Prizes for top 4 teams!
Don't forget to join us for the Icebreaker Tournament at the Dimond Center, 7-9pm on Friday, March 5th!
Doubles Tournament
1st Place: $350 & Plaque
2nd Place: $200 & Plaque
3rd Place: $100
4th Place: $50
Singles Tournament
1st Place: $200 & Trophy
2nd Place: $100
3rd Place: $50
4th Place: $25
2020 Cornhole Results
Doubles
1st Place: Jackson's Hole
2nd Place: Make it Grain
3rd Place: Baggin' Hoes
4th Place: Small Town Snipes
Singles
1st Place:Chandler Jones
2nd Place: Kris Homerding
3rd Place: Mike Walker
4th Place: Eddie Pili
Supported by: